The ET Summit 2020 is now over.
Thanks to all our speakers and attendees for helping the ETCC develop plans of action for 2021!
---
The Emerging Technologies Coordinating Council
presents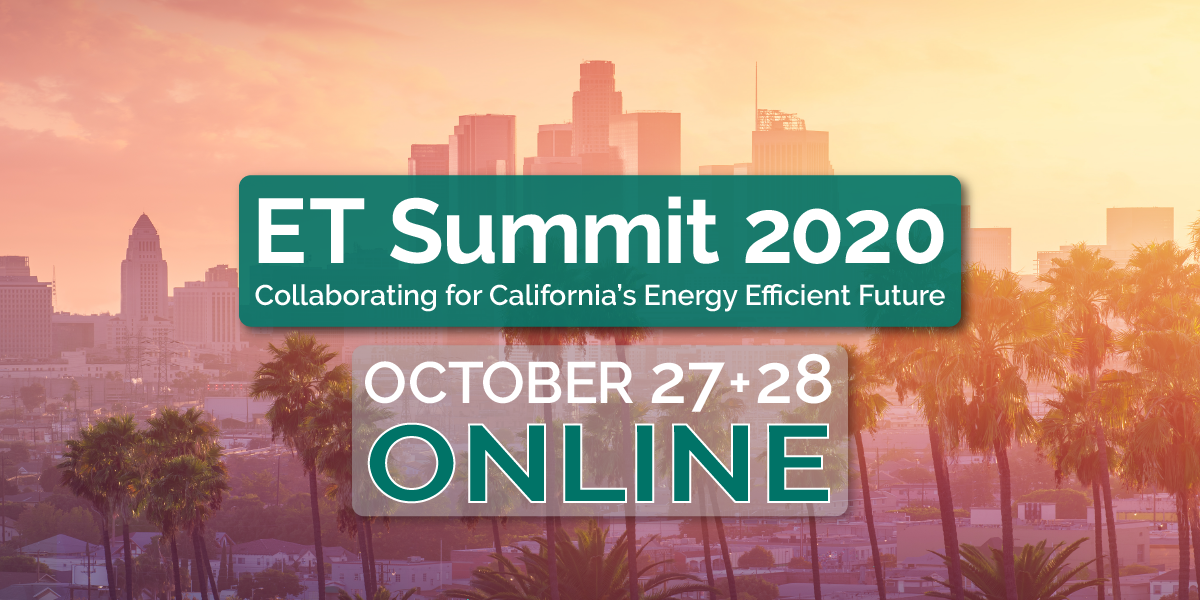 Subscribe for event updates
The ET Summit is the ETCC's premier event for industry stakeholders in the emerging technologies sector. At this 2-day interactive online conference, be ready to connect with entrepreneurs, investors, technologists, policy makers, utilities, and other colleagues while we gather to collaborate for California's energy efficient future.
This year is different. Here's our plan.
Although we can't meet in person, we are excited to bring you a new ET Summit experience that you can enjoy from the comfort of your own home.
First, we changed the format. Instead of one-way presentations on technologies with Q&A time, we're opening up for conversations to happen throughout our time together, for all attendees.
Second, we want to put you to work: Our focus for the ET Summit will be to develop action plans for the coming year around four topics. Check out the program!
---
The ET Summit online experience starts with Whova.
Whova is an app and online platform for conferences. To attend the ET Summit, you will need to register with Whova, which will prompt you to download the mobile app. Using the mobile app makes it easy to network and communicate with other attendees, but it is not required. However, for the workshops and networking breaks, we recommend you use Whova's web app, which you can access from your browser. You may use the mobile app and web app at the same time during the summit, and features such as networking and community boards will be available to you before and after the summit.
---
Testimonials
"I'm hearing about things that don't generally make it into the mainstream.
So it's a really great window into things that are maybe just arriving or on the horizon."
—Ann V. Edminster, Zero Energy Consultant, Design AVEnues
"It's a point of contact for people to understand what's really happening behind the scenes.
When it comes to standards, we would like to know, what are the trends that are driving some of these discussions."
—Carlos Restrepo, VP of Technology, Sonnen
"This is an opportunity to see what's happening and also meet and network with people that have been doing this over time. Everybody asks me, 'What is the latest thing that you're working on?'
That's what attracts people: the unknown."
—Jerine Ahmed, Senior Engineer Technology Area Lead, Whole Buildings & HVAC, Southern California Edison
(From ET Summit: Fall 2018)
---
Did You Know?
Were you at the ET Summit: Fall 2019? 90% of ET Summit 2019 attendees surveyed say they're Likely or Very Likely to attend a future ET Summit.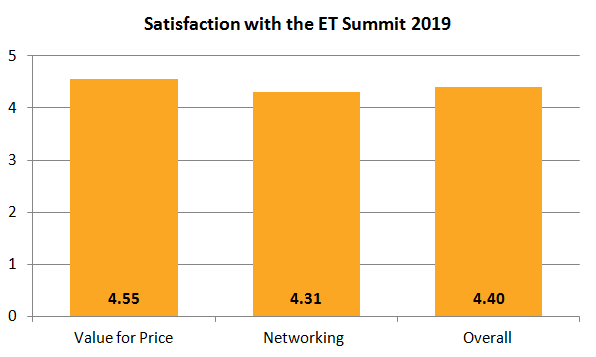 So join us online to meet the utility staff and business leaders that come together at the ET Summit. Don't miss it!
Videos/Photos
The ETCC reserves the right to use any video recordings and images taken at the ET Summit for ETCC-related publications, promotional products, social media, and/or websites.
Need Help?
If you have questions or comments, please contact us at info@etcc-ca.com
Subscribe for event updates.