Project Info
COMPLETE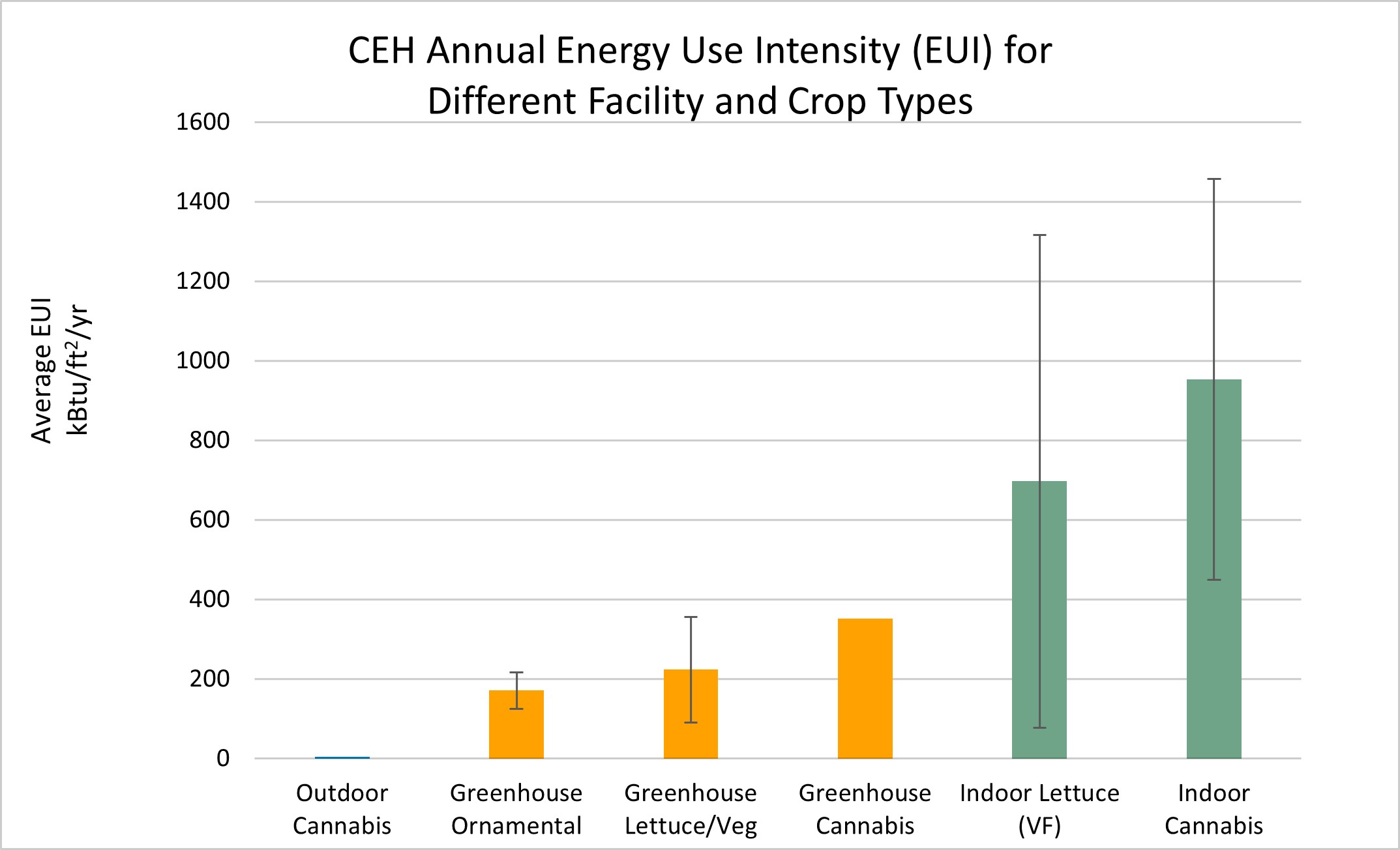 Project Title
Controlled Environment Horticulture Facility Assessment and Industry Survey Report
Project Number
ET21PGE8205-1
Organization
PG&E
End-use
HVAC, Process Loads
Sector
Agricultural, Industrial
Project Year(s)
2022 - 2022
Description
This report presents and synthesizes the results of: a.) on-site assessments of Controlled Environment Horticulture (CEH) facilities in California; b.) online grower and industry surveys; and c.) a previously published CEH literature review (ETCC Report #: ET21PGE8205). The report highlights technologies and operational practices employed in both greenhouse and indoor CEH facilities, including the primary factors driving their implementation and their contributions to energy and water use. Energy, water, and CO2 use data for a sample of the facilities assessed in the Study are compared to previously reported values for CEH, as well as other commercial and industrial applications. The report also identifies several energy-efficiency measures and opportunities for Codes and Standards, along with recommendations to overcome real and potential barriers to adoption of these measures.
Key findings of this literature review include:
The CEH facilities assessed in this Study used less energy than reported and predicted by previous studies and models. Greenhouses used less overall annual energy than indoor facilities.

The CEH cannabis facilities in this Study used less water than reported by previous studies, even without capturing and reusing irrigation runoff and condensate from dehumidification.

Indoor facilities primarily use a combination of split DX systems and standalone dehumidifiers for HVAC. Integrated packaged DX equipment is the second most common HVAC system. Greenhouses in California rely primarily on ventilation, evaporative cooling, and gas-fired unit heaters for temperature and humidity control. Nearly all CEH growers utilize circulation fans to mix and distribution air in the greenhouse and grow rooms.

The primary factors driving the selection of HVAC equipment include performance (ability to achieve environmental targets), controllability (user interface and ability to program setpoints, schedules, etc.), and reliability (equipment failures, lifespan, and ongoing technical support).

Most CEH growers use hydroponic systems for irrigation and nutrient management. Most do not capture and reuse the excess irrigation water that drains from the plants.

Many growers expressed interest in energy efficient equipment and practices. Cost (including banking restrictions for cannabis), lack of one-to-one equipment replacements, uncertain impact on crop development (lack of research), and unfamiliarity with new technology were cited as barriers to adopting energy efficiency measures.

Many growers expressed interest in condensate capture from dehumidification process, but few implement the practice. Cost, lack of space for water treatment equipment, and uncertainty in water quality were cited as the biggest barriers to adoption.

Future and additional assessments of CEH facilities growing different crop varieties and in more climate zones would help establish energy and water use benchmarks and technology baselines to support the development of prescriptive and performance energy compliance paths.
Key Word Search:
Controlled Environment Horticulture, CEH, Controlled Environment Agriculture, CEA, Codes and Standards, indoor agriculture, indoor plant environment, indoor farming, vertical farm, greenhouse, Title 24, cannabis, HVAC, dehumidification, HVAC-D, controls, irrigation, condensate, grower, survey